Quaker
Garden Sheds
In Arkansas
This garden shed is designed to be an old-fashioned style modeled after a Pennsylvania Dutch structure. The roof overhang is perfect for protecting your door and windows. The uses for this garden shed are limited only by your imagination. From playhouses and workshops to tool sheds and ticket booths…you can meet any of your needs with this high-quality Quaker Shed.
Quaker Shed Pricing
| Size | Price | 36 m. RTO | 48 m. RTO | Securrity Deposite |
| --- | --- | --- | --- | --- |
| 8x12 | $4,695 | $217.36 | $195.63 | $100 |
| 8x16 | $5,595 | $259.03 | $233.13 | $100 |
| 10x12 | $5,695 | $263.66 | $237.29 | $100 |
| 10x16 | $6,595 | $305.32 | $274.79 | $100 |
| 10x20 | $7,495 | $346.99 | $312.29 | $100 |
Standard Quaker Shed Features & Specs
| Standard Feature | Description |
| --- | --- |
| Roof | Offset style |
| Widows | two 2'x3' standard |
| Shutters | 2 pairs |
| Flower Boxes | 2 |
| Door | 5' insulated side entry door (4' door on 8' wide sheds) |
| Flooring | 16" on center with 5/8 T&G Advantech flooring |
Quaker Shed Upgrades
Available Option
Price
Additional window (2x3 standard)
$125 ea.
Shutters
$50 per window
Window Box
$50 per window
Radiant Barrier
Roof- $1.50 sq. ft.
Walls $2 sq. ft.
used Quaker Shed Inventory
Discover our broad range of Quaker Sheds, where functionality, allure, and adaptability effortlessly come together. Whether you need extra outdoor storage, a workshop for your hobbies, or a charming retreat, our Quaker Sheds offer the ideal answer. Featuring an elegant offset roof and delightful overhang, these sheds bring a touch of sophistication to any outdoor space. Find your perfect used Quaker Shed to enrich and elevate your outdoor area today.
Quaker Shed Delivery
If you live within a 50-mile radius of one of our dealers, delivery is free. In addition to the garden shed installation, we will use a mule to transport the shed to your desired location because our mule can save both labor and time. For more information on delivery, please contact us.
Quaker Shed Interiors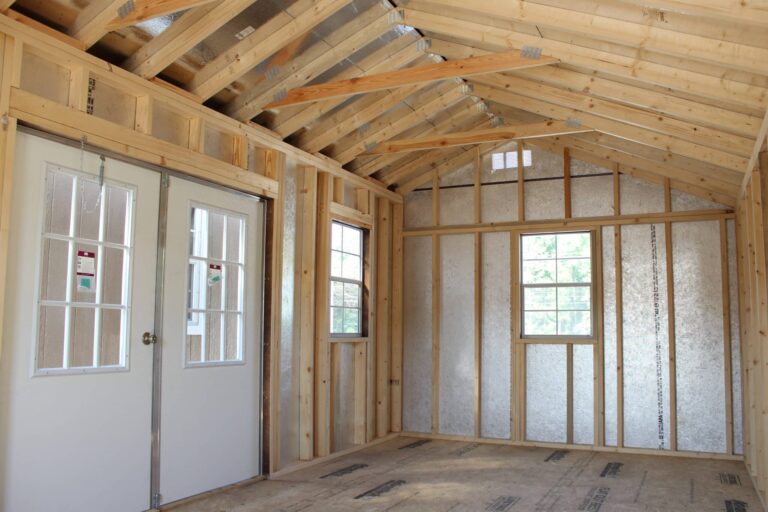 Flooring
We use 3 pressure-treated skids that sit under water-resistant flooring. That gives this garden shed a stable and sturdier flooring system. Not to mention the floor joists are resistant to rot damage and termites. Our flooring joists are 2×6 treated lumber spaced 16'' on the center and are built to be rat and snake-proof.

Walls
For the walls, we use 2×4 lumber spaced 16'' in the center. This gives you the best & sturdiest wall over a regular 24'' on-center setup. Our garden shed walls are designed to last.



Safety
This quaker shed is built following the Arkansas construction code and regulations. The roof of this garden shed is made with premium 40-year metal roofing, and you have the full option of designing or customizing this shed to your specifications.


Siding
This garden shed uses LP smart siding with 50 years of guaranteed warranty. The siding we use helps prevent termites, fungus, and rot from taking over your shed. After we have installed the siding, we finish it by caulking the nail holes for that aesthetic look.


Portable Storage Shed Reviews
Although it might appear too good to be true, you only need to check out what our customers say about their experience working with us at Bald Eagle Barns. Our philosophy is grounded in the golden rule of treating others as we would like to be treated, not only in our personal lives but also in business. We strive to exceed our customers' expectations and appreciate it when they share their satisfaction with their purchases from us.